OUR SHOE CLEANER WORKS ON ANY SHOE, ANY MATERIAL, SAFE ON ALL COLORS!
Meet The "Foam King"
EB
Kicks
would like to introduce you to team members of our branding program. Brand affiliates, representatives and ambassadors represent our lifestyle and are fans of our products.
Robert Jackson, New York
IG: @IcollectKicks
Fb:@RobertJackson
E.B. FITNESS 10/5/17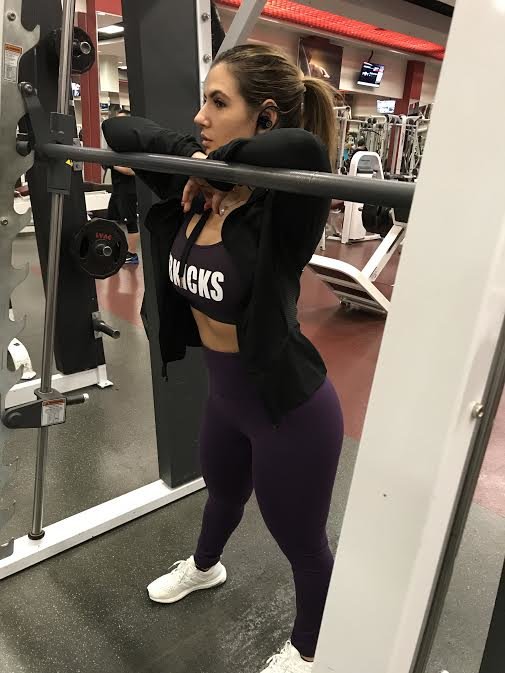 I am all about my fitness game! The gym is my happy place! There are so many topics I can discuss within fitness, so we will take it really slow. I receive direct messages and comments all of the time asking about my fitness regimen and goals. It's not an easy lifestyle at all but I would like to share my experience and routines with my readers.
I started my fit life with basic changes; I started by eliminating soda and juice and replacing with water. I replaced snacks with fruits. I started to plan my meals. I make a list of what I will eat for the week, buy my grocery items, and cook enough for a few days. I plan my snacks and times you will eat. Meal prepping helped me reach my goals faster and keep me on the right track. It saves so much time and money!
Starting a workout routine is the hardest part, but is a must! I will make this advice simple, as long as you get up and go you will see results. This is like a marriage, make a commitment to go to the gym. You can start slow with 2-3 times a week, even if it is to walk on a treadmill for 20 minutes. The key is consistency. Get familiar with your gym, ask to take a tour to learn about equipment and how the machines work. Start slow and focus on form over amount of time and heavy weights. Ask your fellow gym mates questions, they all started from somewhere and usually are glad to help with how to use equipment and tips.
All body types are different and will achieve different results. My body type is petite and slim. In the gym, I work with heavy weights in repetition in order to build muscle. Not all curvy girls have surgery, if you work with heavy weights on your legs, you can build muscle mass and some great glutes!
Being comfortable is also a major key. If you wear tight clothes to look cute, that you are not comfortable bending, jumping or sweating in, you may not perform at your highest potential. I will discuss my workout gear on another post. But what I do know, is my ultimate favorite workout sneaker is, the Adidas Ultra Boost Running sneakers. They are comfortable and lightweight. I also think they are very stylish. You can let me know on Instagram what your favorite workout sneaker is? I'm curious to know!
E.B.
I GOT SOLE " SNEAKERHEAD ENTRPRENEURS SEMINAR" 9/29/17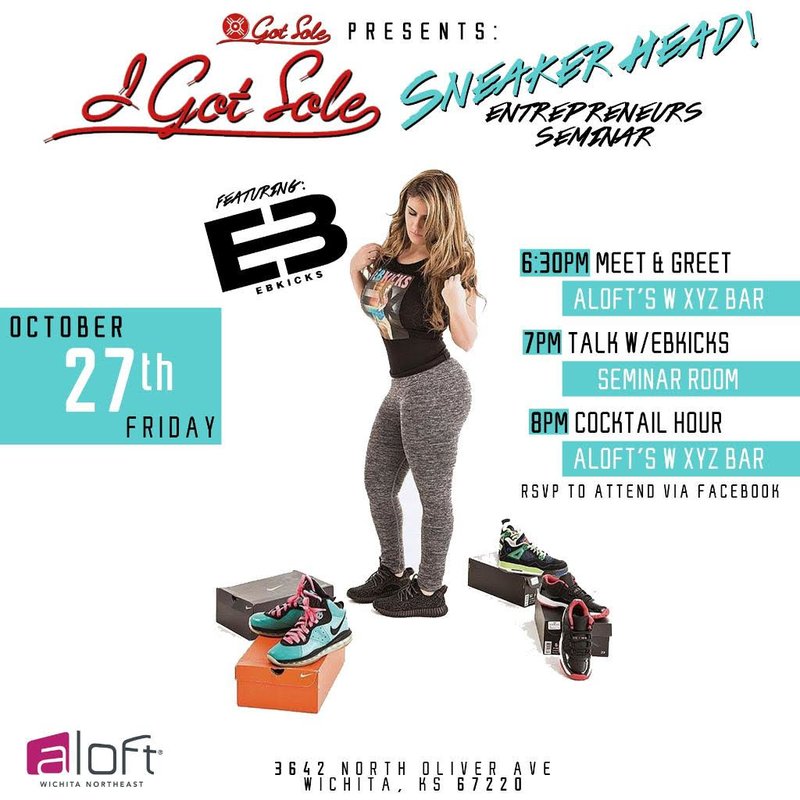 On Friday, October 27th, I will be in Wichita, Kansas, speaking on a panel at the I Got Sole event. I will be discussing how I started my business, key points to starting your own business and my passion for sneakers. My past experience, skills and loving sneakers is what led me to my current business. I hope to motivate and inspire you to start your own business. I would love to see everyone who has questions and wants to kick it with me there!
E.B.
---
MEET THE CEO, E.B. KI
CK
S!
~9/21/17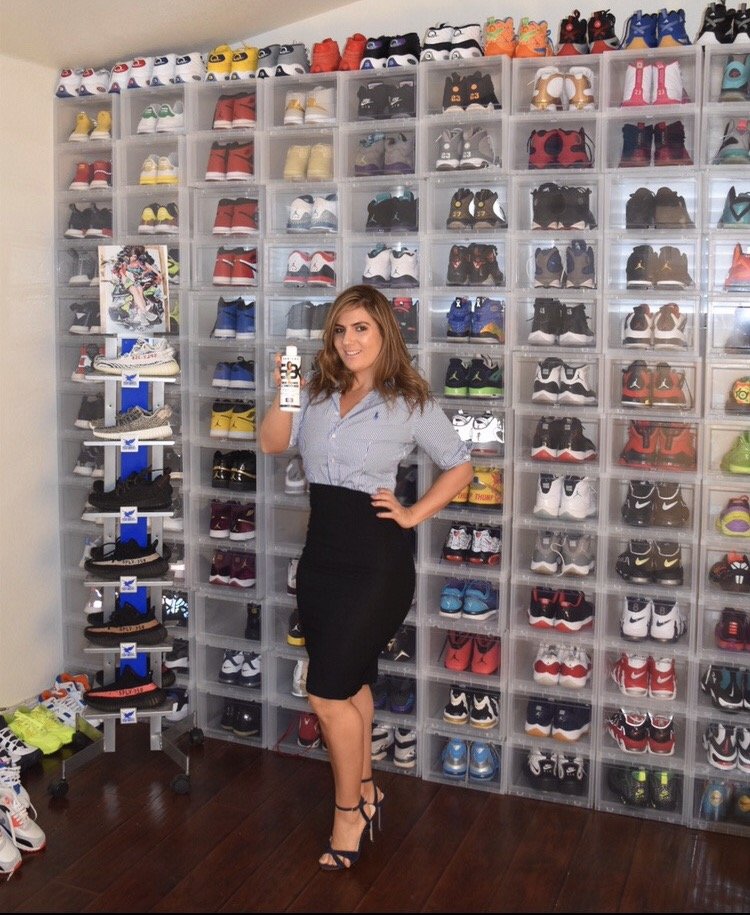 I am so excited to start a new blog with all my customers, supporters and friends that I can share a little more about me than what you see on social media. My name is Elin B. and I am the C.E.O and Founder of EB Kicks Shoe Cleaner (kind of cool)! I am consistently asked all kinds of questions via DM, contact us and on my Facebook. It is so hard to answer but I would like to answer all questions. It is important to me to connect to my supporters and new friends!
Again, My name is Elin but you can call me E.B. I grew up in Netanya, Israel. What most people don't know about me is, I grew up very poor. I grew up in what is considered the projects in Israel. My mom was a single mother who worked two jobs to pay rent and put food on the table. I always was attracted to looking at feet and footwear. During that time, Fila was very popular and I so wish I had a pair. Growing up was rough, I was grateful for what I did have but I knew one day I would work hard and buy a lot of sneakers!
At 14, I lost my mother to Cancer. (Fuck Cancer) I then moved to the United Stated with my father. At 15, I worked as a waitress in my father's restaurant and bought my first pair of J's. I vividly remember taking my tip money to buy used concord 11's. I didn't care they were used. I just wanted the sneakers! I continued collecting from that pointand kept on growing my collection and passion! My friend told me " I am pretty sure you are the biggest Jewish Female Sneaker Collector in the world". That was a lot to take in. Maybe I am? *shrugs* I am ok with the Sneaker Queen of Las Vegas! I think it is a fun title.
Not only am I a collector of kicks but I am a businesswoman. I have a natural passion for business. When I was 22, I opened my first shoe cleaning kiosk. 7 years later I created my own trademarked product because I loved footwear and knew a lot about the shoe cleaning industry. I knew if I worked hard my business would grow. Start-upcompanies are very hard as I am hands on and have been involved in every process of my business. There are many risk to starting your own company but I was so ready and excited to face this challenge! Today, I am happy with my growth and ready to embarkon new business endeavors.
I have many other interest that I will share with you on my blog. I am a fitness junkie! Living a healthy lifestyle by eating clean and working out is important to me. As a mother, I understand how hard (and tiring) it is to stay fit. I love being a mom and everything that comes along with motherhood. I believe in taking care of your mind, body and soul. I believe in being positive and speaking good things into the world. I also love fashion! I love to change between sportswear and formal business wear. I love to dress the body I work so hard for in nice clothes. But I can't lie, my favorite fashion must have is a simple pair of black leggings! (I collect those too) Last but not least, I also love skincare and makeup. That's the girly girl in me.
I will share some great recipes and beauty regimens on my blog. Basically, a little bit of everything and a little bit of me! So, check weekly for my new blog entry and get to know me!
E.B.